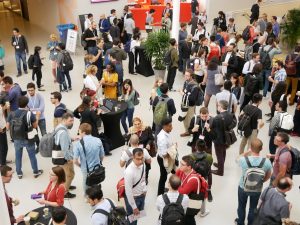 About IC²S² 2019. The 5th edition of IC²S² took place from July 17 to 20, 2019 at the University of Amsterdam, the Netherlands. Over 480 participants from 40 countries attended the conference, tutorials and accompanying events, such as a warmup event, job fair and datathon. The conference featured thematic presentations, poster presentations and panels on various topics related to computational social science.
Have a look at the Program; or (re-)watch the Keynote talks.

Next year. The 2020 edition of IC²S² will be at the Massachusetts Institute of Technology (MIT) in Cambridge (near Boston), Massachusetts in the United States. See the IC²S² 2020 website.
Interested in hosting IC2S2 2021?
See the Call for Proposals for IC2S2 2021

Photos. Photos were taken during the conference and can be found in the following albums:

Best poster awards. A jury committee consisting of Jeroen Bruggeman, David Lazer and Katrin Weller selected the following three posters for the best poster award:
Segregation using a network of population
Jan van der Laan and Edwin de Jonge
Monitoring digital gender inequality
Reham Al Tamime, Ridhi Kashyap, Ingmar Weber and Masoomali Fatehkia
Tipping points in polarized networks
Sreeja Nair, Adriana Iamnitchi and John Skvoretz

Travel award. Anna May from Central European University, Budapest won the ACTNext Travel Award. Congratulations Anna!

Travel grants. To support attendees with limited travel resources or from places where computational social science is not yet as well known or developed, several travel awards were given out. This year's grants went to Parizad Bahardoost, Gian Maria Campedelli, Justin Chun-ting Ho, Sanja Hajdinjak, Zoya Khan, Ritesh Kumar, Muyang Li, Daniele Romanini, Olga Silyutina, Binglu Wang and Zhengxuan Wu.